0 Central Greece Diaspora around the world
Our in-person family gatherings
Ireland's President Higgins family message
Our TEDx talk about family gatherings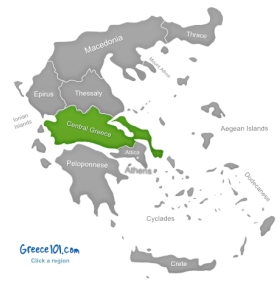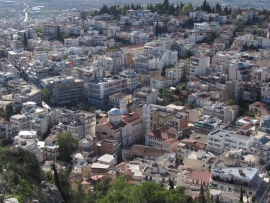 Lamia01 - By Roman Klementschitz, Wien (Own work)
[GFDL or CC-BY-SA-3.0]
via Wikimedia Commons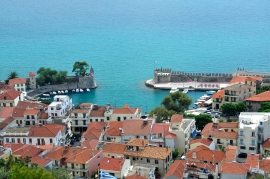 Nafpaktos_old_port - By Dimkoa (Own work) [Public domain], via Wikimedia Commons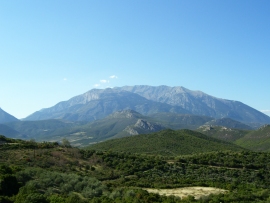 Parnassos2 - By Electron08 (Own work)
[CC-BY-SA-3.0 or GFDL]
via Wikimedia Commons
Central Greece is a term that can be a bit confusing. The Greek term Periféreia Stereás Elládas could also be translated as Continental Greece region. Central Greece can either be a big geographic region that also includes Attica (the area around Athens), or it can be seen as an individual, administrational region (as done in this article).
What makes Central Greece special?
Central Greece has many interesting places you can visit and explore – so do many other regions in Greece, so why is Central Greece special? It is place of Greece that is not very touristy even though the area is heavier populated than many other regions in Greece (around 550,000 inhabitants), and is the most mountainous of all areas in Greece. Central Greece also has some of the largest, and most beautiful lakes, beautiful rivers, and also plenty of important historical sites to explore. If you would like to have an exciting holiday, and would like to not meet other tourists all the time, then Central Greece is your ideal destination, unless you go to the very touristy places like Delphi and Meteroa. Outside these places, you will often feel like the only visitor around.
Getting there
You can take a plane, train, bus or your car to Athens and then travel from there to Attica. Attica is fairly easy to get to, unless you plan on staying in a very remote part of the region.
Getting around
Every place will usually have at least one bus a day that goes there, and returns. You do not want to miss that bus, so make sure that you know your timetables well. There are also train connections. While traveling between bigger cities and towns is usually not a problem, you should definitely do some planning if you would like to go sightseeing at some remoter places (which are definitely worth the planning!).
What are the places you should not miss in Central Greece?
Meteroa
Between the 14th and 16th century, Greek monks built rather spectacular monasteries in a unique setting that made sure enemies would have a very hard time getting to them. Meteroa can be loosely translated as "hanging in the sky". It is a fitting name for the building that are sitting on top of cliffs that are over 1,200 feet high. There are only six of the original 24 monasteries left, but the ones that are left are a sight to behold. Meteroa, or to be more precise the area around it, is easily accessible, and there are plenty of accommodation providers, as this is one of Greece's most popular sights. There also good hiking tours available (try a sunset tour if you have the time – the views are spectacular on a nice day).
Delphi
Delphi once was seen as one of the most important and most sacred places of the world (from a Greek point of view). The Oracle of Delphi was asked for her advice before any big venture was undertaken. In Greek mythology Delphi was the navel of the Goddess Gaia, which turned it into the center of the world. Today, historic Delphi is a major tourist drawing point, with plenty of tours stopping by for a quick walk-through. If you have the time, spend some more time there, and soak in the atmosphere. Try to let the old world come to live in front of your inner eye – best done when there are less chattering tourists around.
Lamia
Lamia is a nice place for a stopover, and can also be used as a base to explore the area. Points of interested in Lamia itself are the Lamia Castle (a fortified acropolis), and various squares with statues.
Thebes
Thebes is a place that is connected with famous Oedipus, and also with other characters from Greek history and mythology. The city has a fantastic archaeological museum you should visit, and there are also ancient ruins, the remains of a citadel from the Bronze Age, and a few good hotels.
Livadeia
Livadeia is great if you like nature, and would like to spend some time in the mountains. Use this city as your base and go out to play and explore. The Herkyna river flows through Livadeia, and you should have a look at the scenic old watermill. At the headwaters of the river, you can find a modern bust of the nymph Herkyna, who was the namesake for this lovely river.
Chalcis (also known as Chalkida)
Chalcis is quite close to Athens, and easily reached by various modes of transport. Every six hours, a few people go to the Negroponte Bridge to watch one of nature's spectacles that is a drawing point of Chalcis. When the tides turn, the water completely stops moving for a few minutes. The city is also a great place to have a look at interesting architecture, visit a good museum, a mosque, some historical sites, and a basilica. There are also lots of opportunities to play sports for people who would like a really active holiday.