0 Thrace Diaspora around the world
Our in-person family gatherings
Ireland's President Higgins family message
Our TEDx talk about family gatherings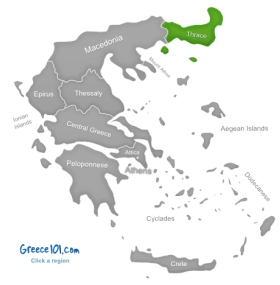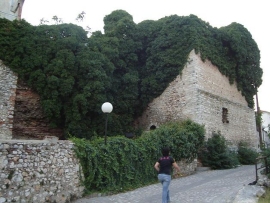 Byzantine_wall - By KFZI310 at en.wikipedia
[GFDL, CC-BY-SA-3.0 or GFDL]
from Wikimedia Commons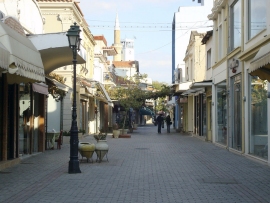 Central_Komotini - By Northwinter (Own work)
[Public domain], via Wikimedia Commons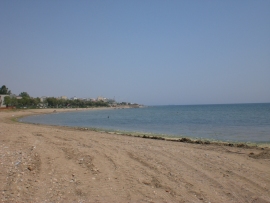 Coast_along_Alexandroupoli - By Pjposullivan (Own work)
[CC-BY-SA-3.0]
via Wikimedia Commons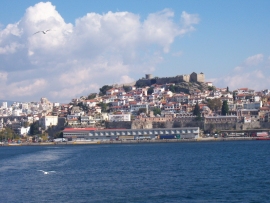 Kavala_Castle - Thanatos666 at the English language Wikipedia
[GFDL or CC-BY-SA-3.0]
from Wikimedia Commons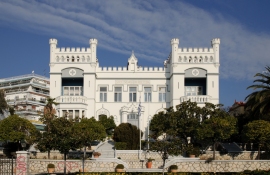 Kavala_Town_Hall - By Plamen Agov (user:MrPanyGoff) (Own work)
[CC-BY-SA-3.0]
via Wikimedia Commons
Western Thrace is the part of the geographical region Thrace that is in Greece. There is also a Northern Thrace in Bulgaria and Eastern Thrace in Turkey. Over 370,000 people live in Western Thrace, and a big part of the population is made up of Muslims, while the other majority consists of Christians. Western Thrace has often been a place of conflict but also of harmony between the bordering countries, and is still an important base for the Greek army these days. There is a lot of security along the borders in this part of Greece as Greece has a lot of problems with illegal immigrants trying to cross over into Greece via Western Thrace.
What makes Western Thrace special?
Western Thrace used to be a region of Greece whose main income came from the agricultural sector, and tourism did not play a big role. Western Thrace never seemed to be a very attractive place for visitors, a) because of Western Thrace often being seen as a conflicted area, and b) tourism not being very well developed in the region. This is, however, slowly changing, as Western Thrace starts to take advantage of the fact that there are fantastic beaches in the region, and that tourism could bring in a lot of money if it was done right. So if you would like to visit a part of Greece that is not yet spoiled by tourism, then you should take your chance now, because soon Thrace will turn into another region filled with lots of beach resorts and tourist shops. You will not only find lovely beaches, but you will also be able to visit archaeological and historical sites that are (not yet) overrun by tourists. In addition, there are many species of wildlife in this region that are quite precious and close to extinction, i.e. they cannot be found in other parts of thev world. This also means that there are quite a few protected areas in Western Thrace. Make sure that you know where you are allowed to go, and what you are allowed to do there.
Getting there
You can arrive in Western Thrace by train or by bus.
Getting around
Western Thrace has a reasonably good public transport system, and the railways connects all the bigger towns in this region. Small settlements can be reached by bus, but as in most other regions in Greece it is important that you make sure that you know when you have to take your bus back to where you came from, so that you do not get stuck anywhere.
What are the places and activities you should not miss in Western Thrace?
Komotini
Komotini has a 40% Muslim population, so you will get a mixed culture atmosphere in this city. One of the sights in Komotini is the clock tower. You should also have a look at the Byzantine fortress of Komotini, the memorial for heroes of World War II, and the old commercial center, which is a great place for tourists as there are quite a few traditional shops and workshops that you will not be able to find in the rest of Greece (unfortunately).
Alexandroupoli
Alexandroupoli has a lovely port, and is one of the cities in Greece that you can call modern in a way, as it has only been turned into a proper town by the end of the 19th century (until then it had been nothing more but one of the many traditional fishing villages you could find all over Greece). This city is of interest to people who would like to visit the nearby Evros Delta, and who would like to enjoy the fantastic scenery and wildlife of Western Thrace. Alexendroupoli has a few things to offer on its own, too: there are typical, Greek archaeological sites, a lovely lighthouse, and a very active waterfront.
Xanthi
Xanthi is a place you either like or you hate when it comes to its architectural style. It is a well known place in Greece as no other town in Greece combines different architectural styles like Xanthi does (it is a mix of Neoclassicism, Byzantine architecture, and Ottoman-style). Stroll through the old town, have a look at the clock tower (clock towers seem to be quite popular in Western Thrace), and visit the museum that is housed in a former tobacco warehouse.
Didymoteicho
This is as close to the Turkish border as you can get when it comes to Greek towns. You will notice that there is a lot of military around in this city as there are a few military training centers in the area, and the border control is very strict to avoid getting too many illegal immigrants crossing the borders. Of course this means that this is also the ideal city to have a military museum. If you are not too interested in this type of history, then there is still quite a bit for you to see in Didymoteicho. The oldest hamam (the ruins of it only), with the name of "Silent Baths", in Europe can be found here. There is also a castle, a folklore museum, and the ruins of an ancient city called Plotinopolis.