0 Dodecanese Diaspora around the world
Our in-person family gatherings
Ireland's President Higgins family message
Our TEDx talk about family gatherings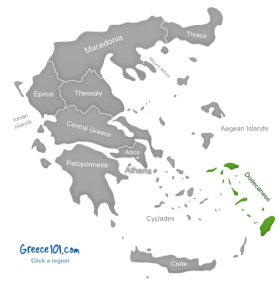 The Dodecanese are named after the 12 main islands (and there are 150 smaller islands), as the Greek word Dodecanese means "12 islands", literally. The islands are located in the South-Eastern Aegean sea, and are commonly seen as the sunniest part of Greece. About 200,000 people live on these islands.
Getting there
Getting to the Dodecanese islands is best done by ferry. The Dodecanese islands can most easily be reached using the ferry from Athens. Many cruise ships also stop at some of the Dodecanese islands.
Getting around
Island hopping in the Dodecanese is a popular activity, so you will usually not have a problem with getting a ferry to move from one island to the other.
What makes Dodecanese special?
The Dodecanese are a treasure trove, but only a few of the islands are touristy. However, even the most touristy islands of this group of islands will usually not be as touristy as Crete or Santorini in comparison. Many of the Dodecanese islands are rather quiet and perfect if you would like to explore some hidden treasures ignored by other tourists. The different islands all have something special about them, so you can choose which island would be the best for your ideal holiday.
The Dodecanese islands (a selection of big and small islands)
Rhodes
Rhodes is the islands that is the most popular Dodecanese island for tourists, which means that you will it an easy island to have a holiday on. Of course, the island is not popular without a good reason. Rhodes is a great place for lovers of ancient Greek history. The old city is lovely and surrounded by medieval walls that have seven gates. You might want to visit the archaeological museum first to get an idea about Rhodes role in Greek history, then all the other places you visit on the island will be easier to understand. Places of interest on Rhodes are: the ancient harbor Mandraki, the National Theater, the Acropolis of Londos and Ialissos, Ancient Kamiros, and a few interesting castles that are still in a rather good state.
Kos
Kos is the island to go to if you love lush vegetation, and beautiful beaches in addition to some medieval monuments. Kos is also very popular for cycling, and you can hire a bike to explore the lovely island in a relaxed manner. There is a castle, a rather impressive avenue that is lined with beautiful palm trees, and of course you should not miss visiting Ancient Kos. Kos, by the way, is the island on which Hippocrates worked as a teacher and doctor.
Telendos
This is a little island, and there is only one village on it. It is the ideal getaway if you would like to go hiking, fishing, canoeing or just soak in the sun on one of the lovely beaches – you won't even have to fight other tourists for a good spot!
Kalymnos
If you are interested in learning more about sea sponges, then this island is the place to go to. It is the only place in Greek that still harvests sea sponges – you should try to buy one of them! In addition to that, Kalymnos is also home to some Byzantine monuments, a castle, and some fantastic outdoor activities (if you love hiking/climbing, you will find some good opportunities there).
Karpathos
Karpathos is another island that is great for outdoor lovers. There are plenty of streams burbling in forests in a mountainous landscape. It is a fantastic escape from your busy life. Karpathos is also a quite traditional island, and even if you spoke Greek you might not be able to understand the dialect of this region as the inhabitants use a rather old Greek dialect. And they also wear traditional Greek costumes.
Tilos
Tilos is the place to go if you are either a birdwatcher or someone with an interest in plants. Tilos is special because it is a protected ecological park, and you will be able to see some rare birds there. Make sure that you know the code of conduct on the island, especially if you visit during the breeding season.
Pserimos
You will find many lovely beaches and good hiking on this small island. There is a lot to do – or nothing to do. It depends very much on what you are after. The water is crystal clear, and boating is one of the most popular activities on the island.
Leros
Leros is the home of Artemis, one of the Greek Goddesses. Artemis is the protector of the forests and the goddess of hunting. And this island is the perfect place for her with its groves, pine trees and lovely streams. However, there are also some castles, and some ship wrecks that you can explore (the first on foot, the later by going on a dive).
Astipalea
You can't go further West than this when you are on the Dodecanese islands. You could hop over to the Cyclades from here if you would like to! There is an old pirate lair on the island, you can have a coffee in a traditional coffee shop, and of course visit some spectacular beaches.
Symi
If you are interested in monasteries, then this island might be the right choice for you, as one of the monasteries holds the icon of Archangel Michael. The island is also interesting because there is a peace gathering of young people from all over the world.