0 Ionian Islands Diaspora around the world
Our in-person family gatherings
Ireland's President Higgins family message
Our TEDx talk about family gatherings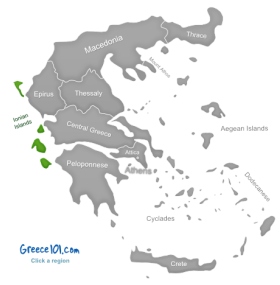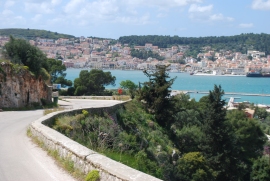 20140410_drapano163 - "20140410 drapano163" by Jean Housen - Own work.
Licensed under Creative Commons Attribution-Share Alike 3.0
via Wikimedia Commons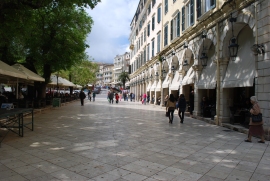 20140417_corfu147 - By Jean Housen (Own work)
[CC-BY-SA-3.0]
via Wikimedia Commons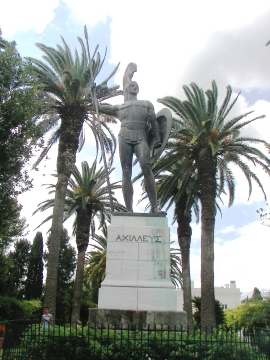 Achilles_in_Corfu - By Dr.K. (Own work)
[CC-BY-SA-3.0] via Wikimedia Commons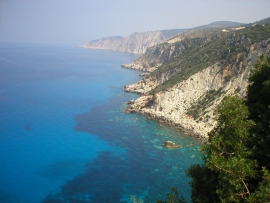 Kipouria1 – Public Domain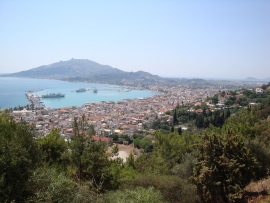 Zakintos_-_panorama - wikipedia user Mich973
[GFDL or CC-BY-SA-3.0]
via Wikimedia Commons
There are seven main Ionian Islands, and a few smaller ones. Another name for the islands is Heptanese, which is translated as seven islands. Often these islands are also called the Western Greek Islands. Six of the main islands are West of Greece, while the seventh island, Kythira, is at the Southern tip of the Peloponnese. Kythira is officially part of the region Attica, however, the island is also one of the Ionian islands and thus part of this article.
A bit less than 210,000 people live on the Ionian Islands.
Getting there
You can travel to the Ionian Islands by ferry, or take a plane to the islands. However, you might have to take a national plane from Athens as not all islands cater to international flights.
Getting around
The Western Greek Islands are fairly easy to get around in. Take a ferry to hop from one island to the other (though you need to consider that getting to Kythira is a different story as it is closer to the Peloponnese than the other six Western Greek Islands).
What makes the Ionian Islands special?
The Ionian islands are special because they are Greek, but also have quite a bit of Italian influence. The islands offer lush green vegetation, clean streams, beautiful beaches and crystal-clear sea water. This makes the island a paradise for divers, but there is also a lot on offer for other types of tourists. The Ionian Islands are one of the few places on Earth that really have something to offer for all types of holiday makers. There are the typical holiday resorts, but also the smaller, charming, traditional Greek villages. And of course, you will also find some old ruins and statues on the various islands.
The different Ionian Islands
Corfu
When it comes to tourism, Corfu is the first of the Western Greek islands that really got into tourism, and you can see it. There are many holiday resorts, and the various tourist services are well developed. You will have no problem at all getting around and being understood. Corfu is also often called the Emerald Island because of its beauty. It is not only the landscape that is beautiful though: there are also some exotic birds to be admired, e.g. pelicans.
Zante
The Venetians called this island the "Flower of the East" as there always seems to be some sort of flower in bloom. This island is also special because the two sides of it are so different from each other. On one side you find mountains, and hardly any people. On the other side of Zante, you see fertile plains, and beautiful beaches. Even Edgar Allen Poe was enchanted by this island, and wrote a poem about it.
Ithaca
Ithaca is actually two peninsulas that are connected to each other. Ithaca has a rich history, and you can see artifacts that are a few thousand years old in the local museum. Ithaca might also ring a bell if you have ever read the Odyssey. Maybe you would like to visit some of the places that were mention in that famous literary work? On Ithaca, you can do so. Plus there is plenty of good hiking, some lovely villages and plenty to explore. And additional plus: You will notice that the island is not filled with tourists, and the locals will also be more than happy to talk to you if you show a sincere interest in their special island (it is not big, but makes up for it by being a wonderful place).
Kefalonia
Kefalonia is the biggest of the Ionian Islands, and has a mountain that is over 1600 meters high plus ten other mountains that are over 1000 meters high – so climbers might enjoy this island. However, this island is becoming more and more touristy as big tourist operators have discovered this spot. Especially the caves and caverns, the golden beaches and lovely coves are attracting visitors in droves. However, the island is also very big, so you might be lucky and find a peaceful spot for yourself.
Paxos
Paxos is the smallest island of the group, and also very popular with tourists. However, it is still a rather peaceful place. There are only two proper beaches, but they have fantastic swimming. The main drawing point of this island are the very old olive trees, the super friendly locals, and the unspoilt nature on the island.
Lefkada
Lefkada is a very popular island for party people, windsurfers and holidaymakers who want to relax. There are plenty of resorts, and many of the inhabitants of the island live from tourism. The special sight on the island are the white cliffs after which the island is name (Lefkada means white). There are plenty of bars and discos.
Kythira
This island is the birthplace of the goddess of love, Aphrodite. It is no surprise then that this island offers a lot of natural beauty, after all, Aphrodite is all about beauty and love. It is a fantastic place if you want to get away from tourism – as there is hardly any of that on Kythira.