0 Peloponnese Diaspora around the world
Our in-person family gatherings
Ireland's President Higgins family message
Our TEDx talk about family gatherings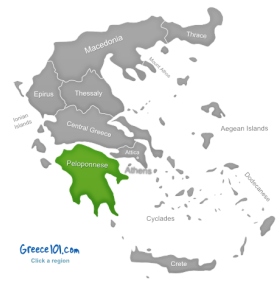 The Peloponnese peninsula, which is not much of a peninsula anymore since the canal of Corinth has been cut, was named after Pelops, a Greek hero who once conquered the whole island. Peloponnese simply means "the island of Pelops". Other historic names of the island were Moreas, Apia and Pelasgia. There are just under 650.000 people living on the Peloponnese, with Patras being the biggest city.
Peloponnese lies to the South of mainland Greece, and people often think that the shape of the island looks like a hand with only four fingers. The region is one of the regions that saw many wars, and had an important strategic value because of its location.
What makes the Peloponnese special?
The Peloponnese peninsula packs everything Greece has to offer on just one island. Whether you are after ancient historical ruins, forested mountains or beautiful beaches to relax on: The Peloponnese has it all. Famous places like Sparta and Olympia can be found here, and once you stand on the walls of one of the fortresses along the coast, with the wind lashing against you, you will understand the magic of the place, and why it has been fought over so many times.
Getting there
You can get to the Peloponnese quite easily. You can either drive from Athens in your own car, take a train from Athens, fly to Kalamata or Patras airport (international and national flights arrive and leave there), take a bus, or arrive by ferry (you will usually arrive in Patras).
Getting around
The main way to get around the Peloponnese is by bus unless you have your own car. The buses only drive to smaller settlements a few times a day, so it is important that you make sure you know the timetable, otherwise you might get stuck somewhere in the middle of nowhere. One important note: It is very helpful to be able to read the Greek alphabet because many local buses will not have any English writing on them. For example: If you would like to travel from Kalamata to Pylos, make sure that you know what Pylos looks like when it is written in Greek!
What are the places you should not miss in the Peloponnese?
Patras
While Patras is not the most exciting place on the Peloponnese, it is a good starting point if you arrive by ferry. It is the biggest city on the peninsula, and a good place to buy any supplies you might need for your travels. A few places that are of interest in and around Patras are:
- Achaia Clauss wine factory
- Roman Odeon
- The Castro
- The Lighthouse
- Municipal Galery of Patras
- Rio-Antirio bridge
- The archeological museum of Patras
Sparta
Sparta is a name made famous by books and movies. Only about 10.000 people live in modern Sparta, and the ruins of ancient Sparta can still be visited by people. You do not have to pay an entry fee to wander around the fascinating historical site that does not only have ruins (including an amphitheater) but also fantastic views. Sparta itself is a very charming town, and once used to be a paragon for all other Greek settlements. Even today, you can feel that there is something special about Sparta. There is a statue of the hero Leonidas at the entry to the historical part of Sparta.
Olympia
Olympia is the place where the Olympic games have their origin. The first games were held in 776BC, and even today, the modern Olympic games start by the torch being lit in the ancient ruins of Olympia. Then the torch is carried to wherever the games are held in the world – which can sometimes be quite a long trip! The ruins are worth a trip, not only for their historic importance, but also because they are quite impressive.
Pylos
Pylos is a very picturesque town, and has an awful lot to offer. There are fantastic beaches, a beautiful bay, lagoons, a swamp with interesting wildlife and fauna, the palace of Nestor, and the old fortress called Paleocastro. Pylos has been very important historically speaking. The battle of Navarino happened in front of Pylos, and you will be able to take a boat tour which will give you plenty of information about this very important battle. If you do not have much time in Pylos, then just do this: Visit Paleocastro (there is an entrance fee, but it is not very expensive), climb the walls that face the ocean, stand on them and imagine the bay filled with battle ships. Even on a wamr day, you will usually get the wind in your face. Standing on the walls of Paleocastra will be one of your most impressive experiences in Greece.
Kalamata
Kalamata is a great base to explore the rest of the island. It is not as big as Patras, and has a lot more charm, and everything you would need as a traveller. There are plenty of buses going into all directions, and a lot of accommodation options are available. Kalamata is not just a great base, it also as a lot of offer on its own: a historic castle, lovely beaches, and a fantastic atmosphere. Not everybody speaks English, but you will certainly be made to feel very welcome. Don't forget to buy and try some of the famous Kalamata olives.
Other places that you should visit if you have the time:
- Areopolis, the city of Ares, the God of war
- Corinth, to visit ancient Corinth
- Methoni, because of its very well-preserved castle
- Argos, because it is one of the oldest cities in Europe