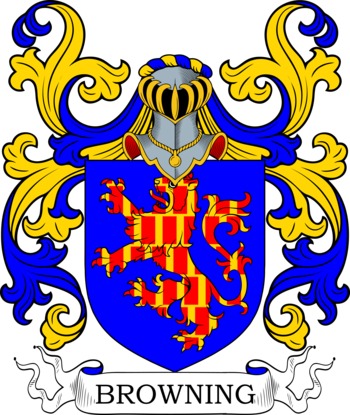 Get this crest printed on...
BROWNING Family History
This ancient name is of Anglo-Saxon origin, developed from the Olde English pre 7th Century personal name "Bruning", which was originally a patronymic form of the byname "Brun". The derivation is from the Olde English "brun", brown, generally used as a nickname referring to the colour of a person's hair, complexion, or clothing. The personal name Browning was, unusually, still in use after the Conquest, surviving until the 14th Century; Bruning de Cestretona is recorded in Cambridgeshire in 1086; and Brunyng Dypres and Brounyng Oteland are recorded in the Sussex Subsidy Rolls of 1296 and 1327 respectively.