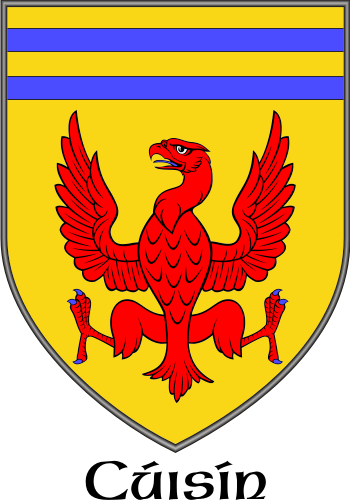 Get this crest printed on...
COUSINS Family History
This unusual and interesting surname is a patronymic of Cousin, which is of early medieval English and French origin, and is from a nickname, derived from the Middle English (1200 - 1500), Old French "co(u)sin, cusin", from the Latin "consobrinus", which in the Middle Ages, as in Shakespearean English, had the general meaning "relative, kinsman". The surname would thus have denoted a person related in some way to a prominent figure in the neighbourhood. In some cases it may be also have been a nickname for someone who used the term "cousin" frequently as a familiar term of address. A sizeable group of early European surnames were gradually created from the habitual use of nicknames; these were given in the first instance with reference to a variety of characteristics, such as physical attributes or peculiarities, mental and moral characteristics, supposed resemblance to an animal's or bird's appearance or disposition, or to habits of dress, and occupation...