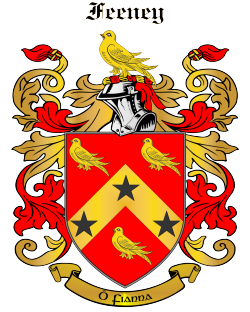 Get this crest printed on...
FEENEY Family History
This is an anglicized form of an Olde Gaelic name O Fiannaidh - composed of the elements 'O' meaning a 'grandson (of)' or 'male descendant' and 'Fianna' - a 'soldier'. The main O Fiannaidh clan was located in the parish of Easkey, Co. Sligo. A smaller sept of the Feen(e)ys (who write their name O Fidhne in Irish) resided in Co. Galway. The name is, in fact, very numerous in Connacht and the clan have given their name to Ballyfeeny in Co. Roscommon. The first element 'bally' coming from the Gaelic 'baile' meaning a 'town'. Mary daughter of John Fenney was christened on April 9th, 1654 at Acton by Nantwich, Cheshire, while one Thomas Phennah was christened on March 7th 1742 at Churton Heath, Cheshire...