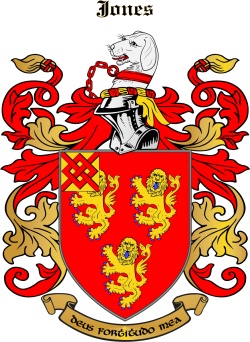 Get this crest printed on...
JONES Family History
MacSeóin and Seóin- the Irish forms of the surname Jones, which comes ultimately from the Welsh surname.Jones only became common in England, during the 20th century, through immigration.
Its linguistic origin in Wales and the marches is a matter of some complexity and debate. In the present writer's view, the name developed as a Welsh patronymic through the Norman/Breton introduction of biblical names in the Middle Ages. Thus, the formation of the Welsh Siôn, for example, is a late formation of the Norman Jehan/Jean, named after the evangelist St John, and a very popular given name in medieval France.
The original Hebrew name is Yohanan, 'God is gracious'.
The surname came into Ireland first after the Camro-Norman invasion; this was reinforced in the 16th and 17th centuries with British 'settlers'.
In William Petty's 1659 'Census', in the list of 'Principal Irish Names' there are 11 families of McJohn in Barrymore Barony Co Cork. Given that there are recorded several families of MacShane in adjacent baronies, it may be that names have 'fallen together' to some extent in this part of Ireland. This would not change the larger picture of Jones being mainly of British (Welsh) provenance.
By the time of Griffith's 'Valuation' in the 1850s the following counties contained the most Jones' households: Dublin (inc city) 123, Cork 83, Armagh 70, and Fermanagh 66.
The 1890 distribution of births, recorded in the Registrar's 'Report' shows Cork, Antrim, Dublin and Armagh as having the highest numbers.
Jones is the most frequent surname in Wales, and the second most frequent in the UK as a whole.
Jimmy Jones (b. 1928) born in Lurgan, Co Armagh, was a league footballer for Belfast Celtic. His leg was broken during rioting after a game with the loyalist Linfield Club.
My pesonal favourite Jones would be John Paul Jones (1747-1792) the Scottish born naval commander in the nascent U.S. navy, who is famous for his daring exploits in British waters during the American Revolution.