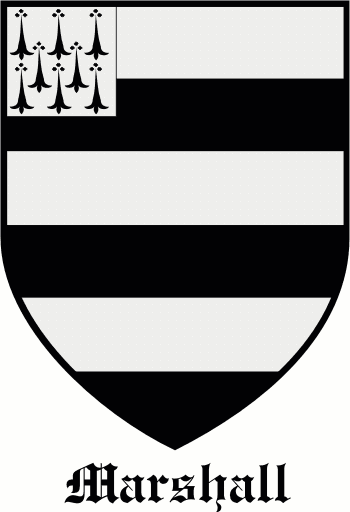 Get this crest printed on...
MARSHALL Family History
Recorded in over fifty spelling forms including Marshal, Marshall, Marschall, Marschalleck, Marshalleck, Marskell, Mascall, Maskal, Maskell and Maskill, this is an English and French surname, but one of ultimately pre 7th century Germanic origins. Although generally regarded as deriving from the French word "mareschal", the ultimate origin of the word lies in the Old High German "marah" meaning a horse, plus "scalc", a servant. This indicates that the term "marshal" was originally occupational for one who looked after the horses, a very important function from the most ancient times in history'. By the 11th Century whatever the original meaning and however high or low the status, the word useage had developed to that of the most important person in a noble household, and as the highest office of state 'The Lord Chief Marshall'...