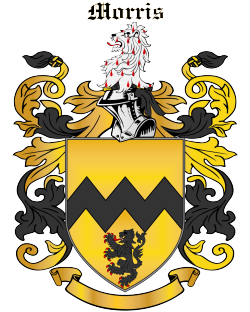 Get this crest printed on...
MORRIS Family History
This famous surname is popular in all the counties of the British Isles. It is however arguably French, and as such derives from the personal name "Maurice", itself from the Latin word "maurus" meaning moorish, or dark and swarthy. Introduced into Britain by the Normans after the Conquest of 1066, the name was first recorded in England in 1176 when Mauricius de Edligtona appears in the documents of the Danelaw, for the city of London. The surname dates back to the end of the12th century (see below), and further recordings include: John Morice (1275) in the Hundred Rolls of Buckinghamshire; Simon Morys (1296) in the Subsidy Rolls of Sussex; and Robert Morisse (1308) in the Chartulary of the Priory of St...