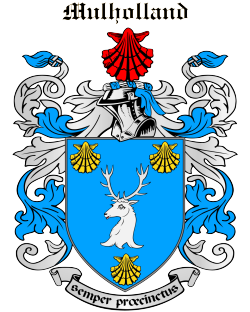 Get this crest printed on...
MULHOLLAND Family History
This unusual surname is an Anglicized form of the Old Gaelic "O Maolchalann". The Gaelic prefix "O" indicates "grandson", or "male descendant of", plus the personal byname "Maolchalann", devotee of St. Calann. The element "maol" literally means "bald", but is used here in the transferred sense of "tonsured one" or "devotee". Traditionally, Irish family names are taken from the heads of tribes or some illustrious warrior, but in some instances, sept names indicate devotion to a particular saint. Similar names include: Mulhatton, from "O Maolchatain" (devotee of St. Catan), Mulkerrin from "O Maoilchairill" (devotee of St. Caireall), and Mullarkey, an Anglicized form of "O Maoilearca" (devotee of St...