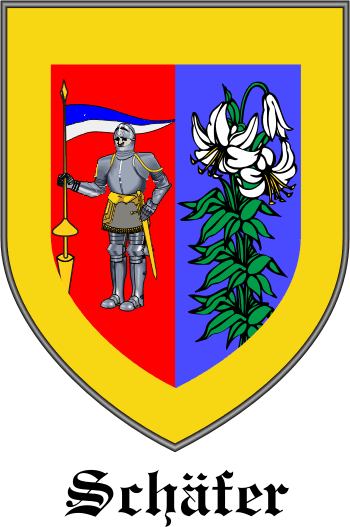 Get this crest printed on...
SCHAFER Family History
This interesting surname, widely recorded in German Church Registers, is of early medieval Germanic origin, and is an occupational name for a shepherd deriving from "schafer", shepherd, an agent derivative of "schaf", sheep (Middle High German "schaf", Old High German "scaf"). In its original sense "a man who has to do with", the agent suffix "-er" designates persons according to their profession or occupation. Among the many professions open to landless people were those of Scha(e)fer (shepherd); Hirt(e) (herdsman); Holtzhacker (woodcutter); Kohlenbrenner (charcoal burner); and Zeidler (finder of wild honey). Early recordings of this surname include: Lewelin Schaffer, Burger zu Lahr (1356); Cuntzel Schefer (Worms, 1384); and Niclos schaffer der Cartheuser ordens (1451)...