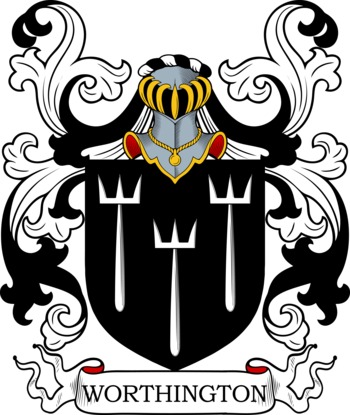 Get this crest printed on...
WORTHINGTON Family History
This interesting surname is of Anglo-Saxon origin, and is a locational name from any of the places so called; in Lancashire, recorded as "Worthinton", in the Curia Rolls of 1210, and in Leicestershire, which appeared as "Werditone" in the Domesday Book of 1086. The derivation for both places is the same, that is, from the Olde English pre 7th Century byname "Wureth", Worthy, or "worthign", a derivative of "worth", enclosure, and the Olde English "-tun", settlement. During the Middle Ages, when migration for the purpose of job-seeking was becoming more common, people often used their former village name as a means of identification, resulting in a wide dispersal of the name.